Christmas Gift Guide 2019 For Grassroots Football Players
Not sure what to buy your son, daughter, niece or nephew for Christmas this year? Why not play your part in their footballing development by gifting them of these exciting football training gifts this year. Here is the ultimate Christmas gift guide 2019 for grassroots football players.
Football Boots
Every footballer needs a reliable, sturdy pair of boots to get them through the season.  With so many different brands, colours and types on the market, it's not about which boots look the best but the ones that are most suitable for the player and their position. A winger tends to prefer lighter, flashy boots, whereas a centre half may opt for a simpler looking boot offering more protection to the foot from challenges.
Shooting Targets
Shooting targets are perfect for fine-tuning shooting skills on the training pitch and can be used down the park or in the garden. They are easy to set-up, can be attached to the posts in seconds and taken down even quicker.
Free Kick Mannequins
A huge part of shooting and ball-striking practice involves dead-ball situations. Striking the ball from a stationary position is hard to master and requires hours of practice on the pitch outside of training, so when there's a wall of defenders to clear is even harder.
Football mannequins allow free-kick scenarios to be recreated on the training pitch in seconds. They're dug into the ground with steel spikes providing a sturdy line of defence, and perfect for children's and grassroots football.
Football Rebounder
Developing touch and control requires hours of practice on and off the training pitch. Although bouncing off of a wall does the trick, to make things as realistic as possible players need to react to balls coming at them at various speeds and from several different directions.
Kit Bag
All football players at every level need a strong and sturdy kit bag. Kit bags must be durable enough to withstand lots of punishment if they're to last an entire season. Ideally, ones that feature a heavy-duty zip, a shoulder strap and handles on either side with suffice. Players also like kit bags with a separate compartment at the bottom for their muddy boots.
A Professional Football
For an extra special and bit pricer gift this Christmas, a match ball used in professional football is the perfect gift.
So why not treat that special someone this Christmas to a football training gift and help them to improve an aspect of their game at the same time!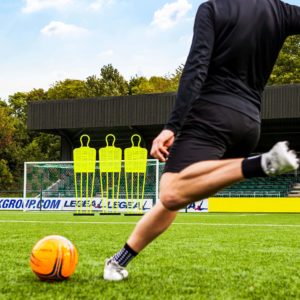 View all blog posts »