Manchester United sign 1-on-1 client, Harrison Parker
We are super proud of Harrison Parker signing for Manchester United's U15's. Harrison's dad approached leading skills coach, Saul Isaksson-Hurst, 4 years ago to support Harrison in addition to his academy training. At the time Harrison didn't have much confidence on the ball and needed to improve his technical skills and control.
"Harrison came to me as a U12 without and confidence on the ball his dad asked me to supplement the excellent work he got at his club with some world class ball mastery. He's now U15s and one of the most technically gifted Centre Backs in the country…hard work pays off!"

-Saul Isaksson-Hurst
Now, 3 years later, after supplementing the amazing work at the Academy he's now playing Centre Back for England U15's with a new boost of confidence and the ability to use technical skills used by some of the best players in the world!!
This is what separates players from the rest…
"Saul has worked with Harrison for 3 years now from u11 to u15 for me Harrison's Technical ability and movement has improved massively, also from rarely using his left foot he now plays comfortably with both left and right foot,for me that's what Saul is great at working on players weaknesses."

– Reiss Parker (Harrison's Dad)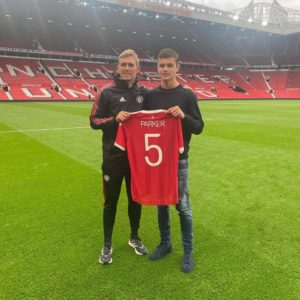 Get in touch with us today to take the next steps in your football career.
Email: team@pdafootball.co.uk
View all our services
View all blog posts »