Norwich City Star's Unconvential Route To The Top
Norwich City and PDA Football 1on1 client Max Aarons was not even playing Sunday League four years ago after he quit Luton's academy at age 14.
"That was a weird period. Even my friends who were playing Sunday league, they'd be saying at school during the week, 'Oh, I can't wait for our game this weekend'.
"I'd be sat there thinking, 'I'm not even playing this weekend'.
Instead, Aarons turned to PDA Football Head Coach and specialist soccer skills coach Saul Isaksson-Hurst for one-to-one training.
"I just trusted that the training I was doing was good enough for me.I changed completely as a player. It brought me to new levels."
Despite some knock-back's along the way and no organised football for two years, Aarons continued working on his technical game with Isaksson-Hurst until the right chance came along.
"It was a case of keeping him fresh and sharp and working on high-quality technical outcomes, particularly his one-on-one ability."
Finally, an opportunity at Norwich City in the Carabao Cup. Boss Daniel Farke gave Aarons his opportunity at the start of last season and then threw him into the East Anglian derby against Ipswich for his league debut. Since then, he has never looked back.
Even though Aarons is now playing in arguably the best league in the world, against world-class opposition every week, he still makes sure to fit in some one-on-one training with PDA Coach Isaksson-Hurst.
"In the summer I usually go back and do some training with him, like I did in June, and I work on the same things as I did when I was young.
"He's a hard taskmaster. If you start thinking, 'I don't want to be doing this', he's on you — even now."
You can read the full story of Max Aarons footballing journey with Saul Isaksson-Hurst, here.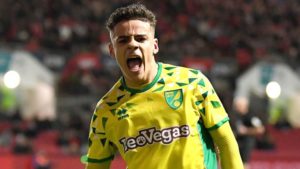 View all blog posts »