Top Tips To Stay Fit & Sharp Over Christmas
With the Christmas period upon us it means overindulging in food and drink…for most. As a footballer or aspiring player now is a great opportunity to get ahead of your opponents and teammates and push on. That's not to say you can't enjoy your Christmas break, but everything in moderation.
Consistency and discipline all year round is key to setting yourself apart from the rest.
Here are some top tips to keep yourself fit and sharp over the Christmas period:
Stay active
For most, teams won't train over the Christmas period. This means it's up to you to you to maintain your fitness levels and motivate yourself to get it done. You can stay active throughout Christmas in a number of ways, and this doesn't mean running miles and miles on a treadmill. Taking long walks, going for bike rides or getting a session in the gym done early morning are great ways to stay active and get your workouts done early meaning you can enjoy the rest of the day. Some clubs may provide you with Christmas workouts to do. You are not obliged to complete these sessions, but by not doing anything over the Christmas break will set you aside and fall behind.
Limit your alcohol
As much as this may be difficult over the festive period with lots of parties and gatherings with family and friends, if you are serious about football then limiting your alcohol intake is important. Alcohol is detrimental to performance because of the way it affects the body during exercise. If you try to train too soon after drinking alcohol it can dehydrate the body. Alcohol also affects reaction time and other bodily functions such as balance and sharpness which are key in football.
Maintain strength and conditioning work
Staying active and doing some strength and conditioning work over the Christmas period will help you to maintain a reasonable level of fitness. It can be as easy as doing some basic free weights and core exercises at home. If you have a conditioning programme to follow, set yourself a routine and get the workouts done early so you can get on with the rest of your day.
Set realistic targets
There's no point trying to squeeze in  a five mile run and two gym sessions on Christmas Eve and Christmas Day. Be realistic and consistent about the training you can do during Christmas, around 30 minutes of exercise a day should be sufficient enough if you're pushing yourself every time.
We'd like to wish you a Merry Christmas from everyone at PDA Football 1on1!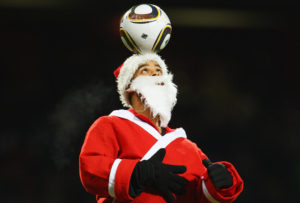 View all blog posts »