Check out MyPersonalFootballCoach's Director of Coaching, Saul Isaksson-Hurst's latest feature in The Times!
One of Saul's success stories is Norwich City and England U21 star Max Aarons, who has been training with Saul since he was 14 years old.
Saul features in an article published by The Times discussing Max Aaron's transformational route to the Premier League.
[vc_row][vc_column][dt_gap height="10″][vc_column_text]
"He's always had this drive, and quest for improvement. "From 7 until 11, I was a winger and – this is not me being arrogant – I was always the fastest and a step ahead. But at 11 I felt I'd hit a wall. Players started to be as quick. I said to me dad, 'I feel I've lost it, I'm off the pace, what can I do?' He said he knew someone who knew a coach who's worked at Chelsea and had left to start his own business, working one-on-one with players." 
Saul Isaksson-Hurst proved transformational and significant to Max's success.
"My dad paid for the sessions, they were expensive, about £70 an hour. Again, the sacrifices my parents made. My game is all about running with the ball, beating players. He [Isaksson-Hurst] said to me, 'We're going to work on so much that is sticks in your brain, your finishing, your first touch'. We did different sprint drills." Mike credits Isaksson-Hurst's "Overwhelming influence on my son's development".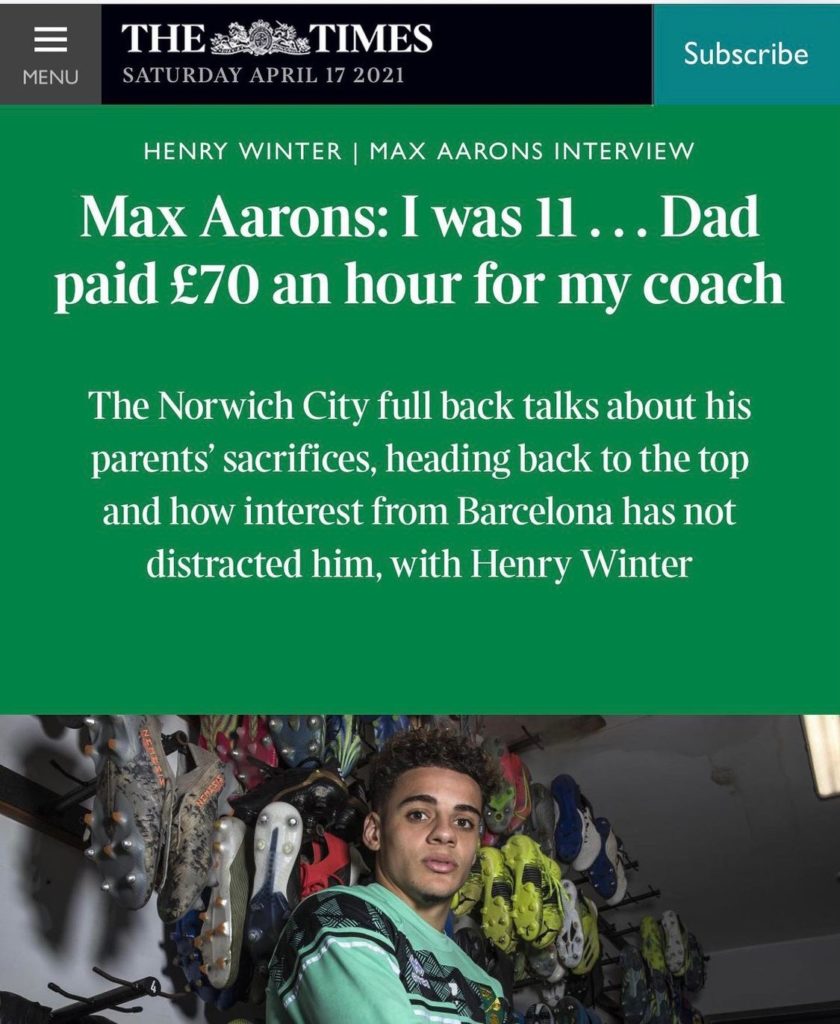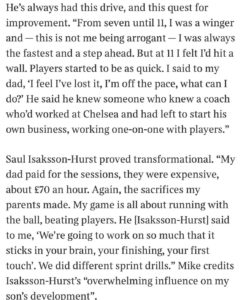 You can read the full story here:
https://www.thetimes.co.uk/article/max-aarons-i-was-11-dad-paid-70-an-hour-for-my-coach-8smqv0s6t
[vc_row][vc_column][dt_gap height="1″][vc_column_text] Get a taste of an elite training academy with the MyPersonalFootballCoach Virtual Academy.[vc_row][vc_column][dt_gap height="10″][vc_column_text]
Great to feature in The Times today …
My 'transformational' work with Max Aarons
and the "overwhelming influence on my son's development" (Mike Aarons)@ItsYourGame @SOTGResources https://t.co/zN0kaScdbj pic.twitter.com/LlFyMVoApp

— MyFootballCoach (@MyFootballCoach) April 17, 2021
[/vc_column_text][/vc_column][/vc_row]