Relentless Drills Paying Off
Sometimes players just need a little confidence boost and personalised support to help their game. Players can regain or boost their confidence levels by working on their technique and having a chance to try things in a positive environment where making mistakes are ok.
What our customers are saying about Coach Will's sessions: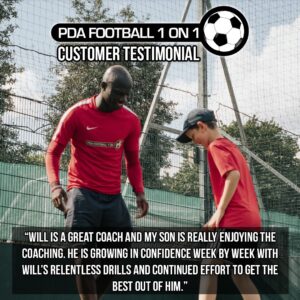 At PDA Football we know that whether you are an aspiring academy footballer, a newcomer to the game or someone who just wants to build their confidence, you need the best. That's why all our coaches have a background working in the Premier League and spend time understanding their players to create unique sessions to suit each individual to get the best out of the player.
PDA Football Personal Football Coaching sessions are an ideal opportunity to help build a players morale and make their experience on the pitch much more positive, as well as taking their game to the next level and improving players all-round technique.
Build a players confidence with personal football training.
View all our services
View all blog posts »