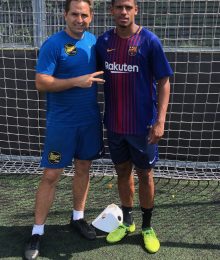 Marcus McGuane is an 18 year old midfielder who has made two first team appearances in the Europa League this year for Arsenal FC. In January 2018, Marcus completed a move to join FC Barcelona. Well done Marcus! We are so happy for you.
"During the off season I wanted to improve on my finishing inside and outside the box. Being a box to box midfielder I felt that I needed to add goals to my game. After speaking with Saul and planning what I needed he devised sessions around me and my game. By the start of pre season my confidence was high and it was apparent that all the work with Saul was coming good. I'm looking forward to working with him again during this campaign."
Here is a video of Marcus and Saul in action earlier this summer.
View more Success Stories »