Women's World Cup
The 2019 Women's World cup in France this summer has been another great success for the women's game and the England Women's team, finishing 4th overall making the nation proud with their efforts. Lucy Bronze winning Silver ball for being the second-best player in the tournament and Ellen White matching the top scorers but missing out because of assists and goals per minute ratio. The team gave their all with strong performances against Norway winning 3-0 and Cameroon winning 3-0 with a few controversial VAR and Referee decisions.  However, it was also a record-breaking tournament for Team USA and Megan Rapinoe, who shined throughout the tournament. They were the favourites going into the tournament and they definitely showed the world why dominating throughout the tournament most noticeably beating Thailand a record-breaking 13-0 in the group stages.
PDA Football Player of the Tournament
Name: Nikita Parris
Age: 25
Club: Olympique Lyonnais Femini & England Women's
Going into the tournament I was very interested to see how Nikita would fit into Phil Neville's England Women's squad as the current all-time leading goal scorer in the Women's Super League. Finishing the 2018/19 season with Man City Women's second in league top scorers with 19 goals and 7 assists, just behind Arsenal Women's Vivianne Miedema who achieved 22 goals and 10 assists. Her consistent goal threat, speed and ability with the ball makes her a defenders nightmare to play against. Thankfully for the Women's Super League defenders, her incredible performances last season with Man City Women's, Parris earned herself a move to Olympique Lyonnais Femini, one of the best sides in women's football.
Nikita had a very solid world cup in my opinion, although her end product wasn't up to her usual world-class standard, she still made a noticeable impact on the pitch. Scoring 1 goal which was a penalty and getting 1 assist, her impact goes further than statistics. It was her movement and position between the lines caused all sorts of problems for the opposing team. Creating space for her teammates and herself, allowing more time to make intelligent decisions.
I particularly enjoyed watching her bravery when taking on defenders. Not only driving towards the player and making the defender engage but using skill to drive away, not just her pace. This was refreshing to watch her creativity when taking a player on in a 1v1 situation, using her pace, energy and nimbleness to full effect. This proved very successful as in the group stages she attempted 18 dribbles and completed 14 successfully. This is why she is the PDA Football Player of the Tournament, trying to do something different in the women's game and having success, she has set herself up nicely for the Euros in 2021 where I'm sure she'll want to convert those successful 1v1's into more goals and assists.
Women's World Cup Awards.
Winners – USA
2nd – Holland
3rd – Sweeden
4th – England
Golden Ball
Voted as the best players throughout the Women's World Cup tournament by the FIFA committee and media.
Golden Ball – Megan Rapinoe, USA
Silver ball – Lucy Bronze, England
Bronze ball – Rose Lavelle, USA
Golden Boot
Golden Boot – Megan Rapinoe, USA – 6
Silver boot – Alex Morgan, USA – 6
Bronze Boot – Ellen White, England – 6
All were tied with 6 goals, so it then goes on assists. if there is still a tie then it goes on goals per minute ratio.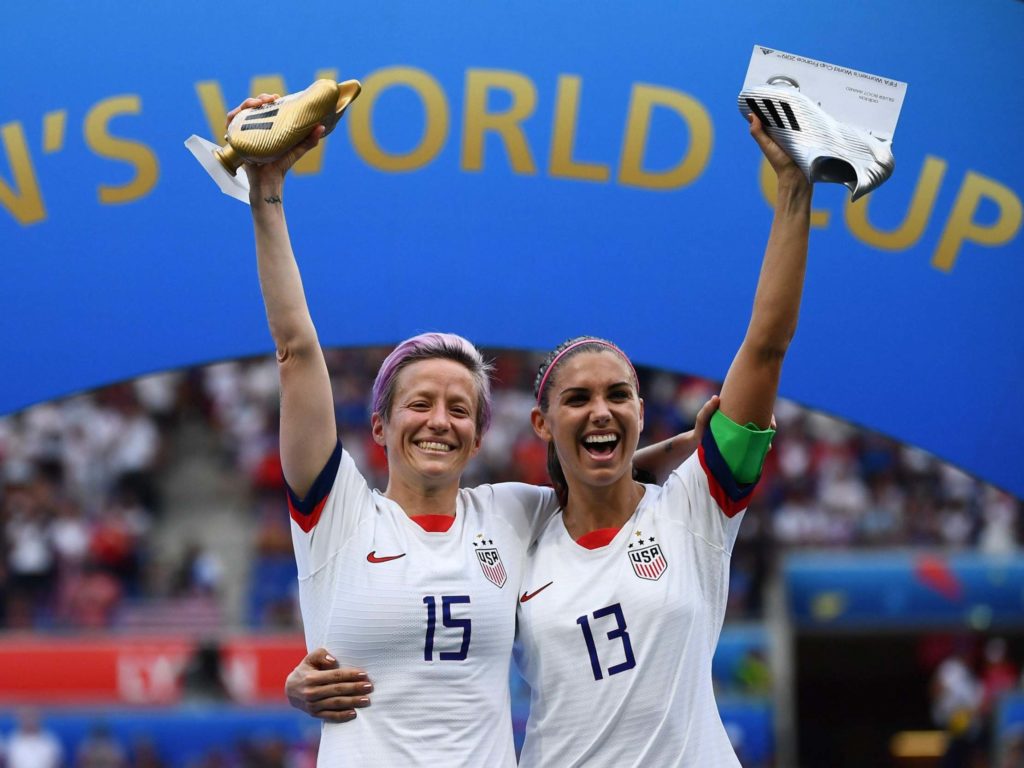 Megan Rapinoe and Alex Morgan Celebrate winning Golden boot and Silver boot respectively.
Golden Glove
Golden Glove – Sari van Veenendaal, Holland
This award is given to the best goalkeeper throughout the tournament. Sari kept 3 clean-sheets throughout the tournament, 2 in the knockout stages against Italy (quarter-finals, Sweden (semi-finals) and 1 against New Zealand in their opening game. She also put in a superb showing in the first half against USA Women's keeping it scoreless into halftime. But USA had too much quality in the side and ended up scoring 2 in the second half. She currently finds herself without a club after leaving Arsenal Women's on a free transfer at the end of last season. I'm sure there is a queue of clubs wait for her to decide where she wants to play next.
Best Young Player 
Best Young Player – Giulia Gwinn, Germany
Gwinn had a fantastic tournament playing every minute for Germany grabbing a late winner against China in the group stages and getting 1 assist. She was one of the bright sparks to come out of a disappointing Germany women's tournament only managing to reach the quarter-finals before getting beaten 2-1 against Sweden. Last world cup in Canada they managed to finish in fourth place. Gwinn's strong performances earned herself a move from Freiburg FC to Bayern Munich FC for the 2019/20 season.
Fair Play Trophy
Fair Play Trophy – France
Given to the Team which showed the best fair play throughout the tournament. They're given a medal and $50,000 worth of football equipment to be used for youth development.
Take your game to the next level.
Owen Stubbs
Operations Manager
PDA Football 1on1
View all blog posts »